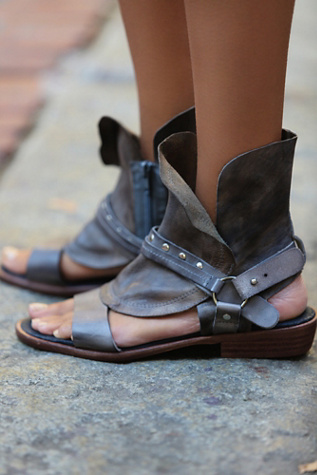 I'm not quite sure why I love these sandals.  I mean, look at them.  They are the furthest thing from feminine.  And, I wouldn't exactly describe them as being, "sweet" or "girlie", at all.  They are rugged, rough, distressed and actually a little, "frumpy".  So, with all that said, why in the world did they catch my eye and make me fall in love with them?
Maybe it's just because of all those reasons.  They are eye-catching, unique and even cute, in a not-so-cute way.  
I've always loved a style that was a bit off the beaten path.  Fashion that stood out from the rest of the crowd.  I was the girl who in high school who had a favorite pair of jeans that were a bright red.  Again, different and not something you see everyday.
I envision pairing these sandals with some cute khaki shorts and a simple tank.  Maybe a tank with a little feminie flair, like some light ruffles or lace.  They are sandals that are meant to stand out, so keeping the overall look simple and classic, is key.  But, including some feminine touches would make the look just that much sweeter.  In fact, I would say that these sandals are a little sugar and spice.  Isn't that the combination we all strive for in both life and fashion?  
Check out these cuties that are not your see-everyday sandal.  Don't be afraid to "step" out of your ordinary flip flop or sandal and express the more daring, edgier side of you.  And, it may be just what you need to turn your ordinary outfit in to a something a little more extraordinary!
Feel free to click on the pictures that lead to affiliate links with all the deats you need.